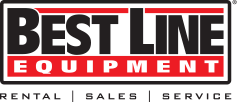 Best Line Equipment provides equipment rental, sales, service and parts in Pennsylvania and 7 surrounding states, including: Maryland, New Jersey, New York, Ohio, West Virginia, and Northern Virginia.
BEST LINE EQUIPMENT: RECOGNIZED AS ONE OF THE TOP 100 PLACES TO WORK IN PENNSYLVANIA
Best Line Equipment knows the importance of having equipment on-site and ready to work when you need it. We offer pick-up and delivery services on most rental and sales items within 500 miles of our stores at competitive rates.
CONSTRUCTION EQUIPMENT FOR SALE FROM BEST LINE EQUIPMENT: